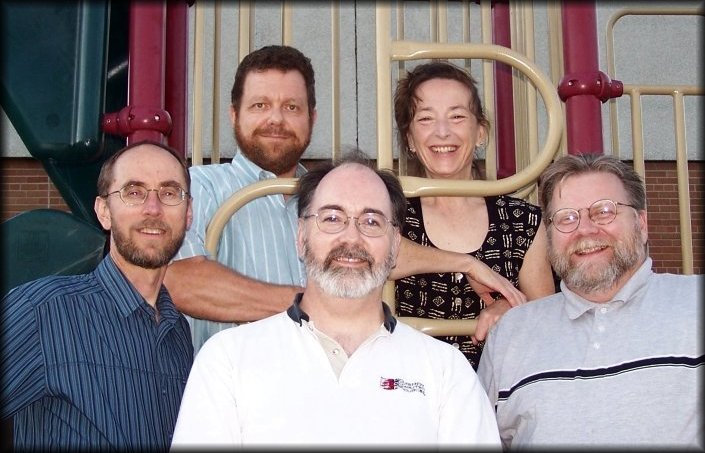 Brittany Bay is an acoustic quintet from Cincinnati Ohio. We play music from Celtic, French Canadian, Southern old-time, and other folk traditions, in addition to contemporary styles and contradance music. Brittany Bay features the interplaying melodies and harmonies of Fred and Pam Stoll on fiddle and Tim Schiaper on hammered dulcimer and whistles. Fred's masterful fiddling is a rare combination of energy, improvisation, and beauty, reflecting his diverse musical background. Tim breathes life and beauty into the melody with his hammered dulcimer and whistles, and dance crowds shout for joy when he starts up the percussion. The intricate 6 and 12 string guitar rhythms provided by Dan Wolking are a distinctive part of our sound. Guy Byars' driving bass fiddle provides the power that Brittany Bay is known for. The addition of St. Louis transplant Pam Stoll on fiddle has brought new repertoire and energy to the band.
While Brittany Bay can provide high-energy music for contradance, we also play the slow and beautiful Celtic music that is perfect for slower paced affairs. Please see our music page and listen to the audio files of some of our selections.
Brittany Bay has appeared at numerous dances, festivals, receptions, and bookstores throughout the southwest Ohio region. Look at our calendar page for upcoming appearances.