Dear Readers.
When my Scotty dog, Harvey died, I said, "I'm not going to get another Scotty. I hate it when they die." A week later I was looking in the newspaper for Scotty puppies. I couldn't stand it. I got my new Scotty dog and named him Ace.
Ace was with me for fourteen wonderful years. Everyone in the family loved Ace, so after Ace died, my daughters, Laurie Myers and Betsy Duffey, and I were writing a book called "Dog Diaries", and my daughters wanted to dedicate the book to Ace's memory. I wanted it too. When I got the finished book I read the dedication and looked down and there was a drawing of Ace.
He is walking along with a knapsack over his shoulder on his way - I like to think - to Dog heaven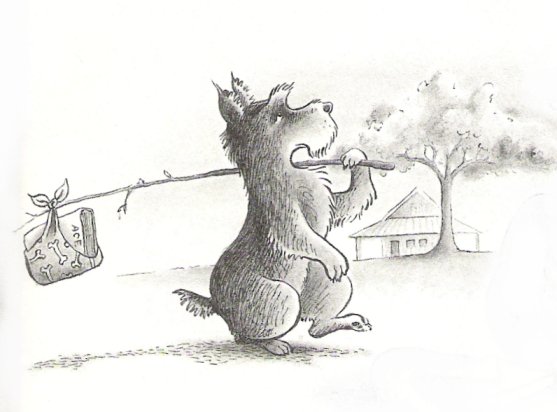 The good news is that I've still got May and Pearl. Plus all the dogs in Dog Diaries" - Beauregard, Abu, Einstein, Pooch, Dawg, Tidbit, Marcus, Roscoe, Mimi, Bo, Jip and Lucy.